Via Viaggio is a human-first company.
Deeply rooted in the soil and wisdom of our ancestors, Via Viaggio is part of a growing community of curious, inspired wellness seekers who make a conscious choice to feel better by embracing mother nature and her centuries-old plants as our primary source for healing——essential to our emotional, mental and physical health.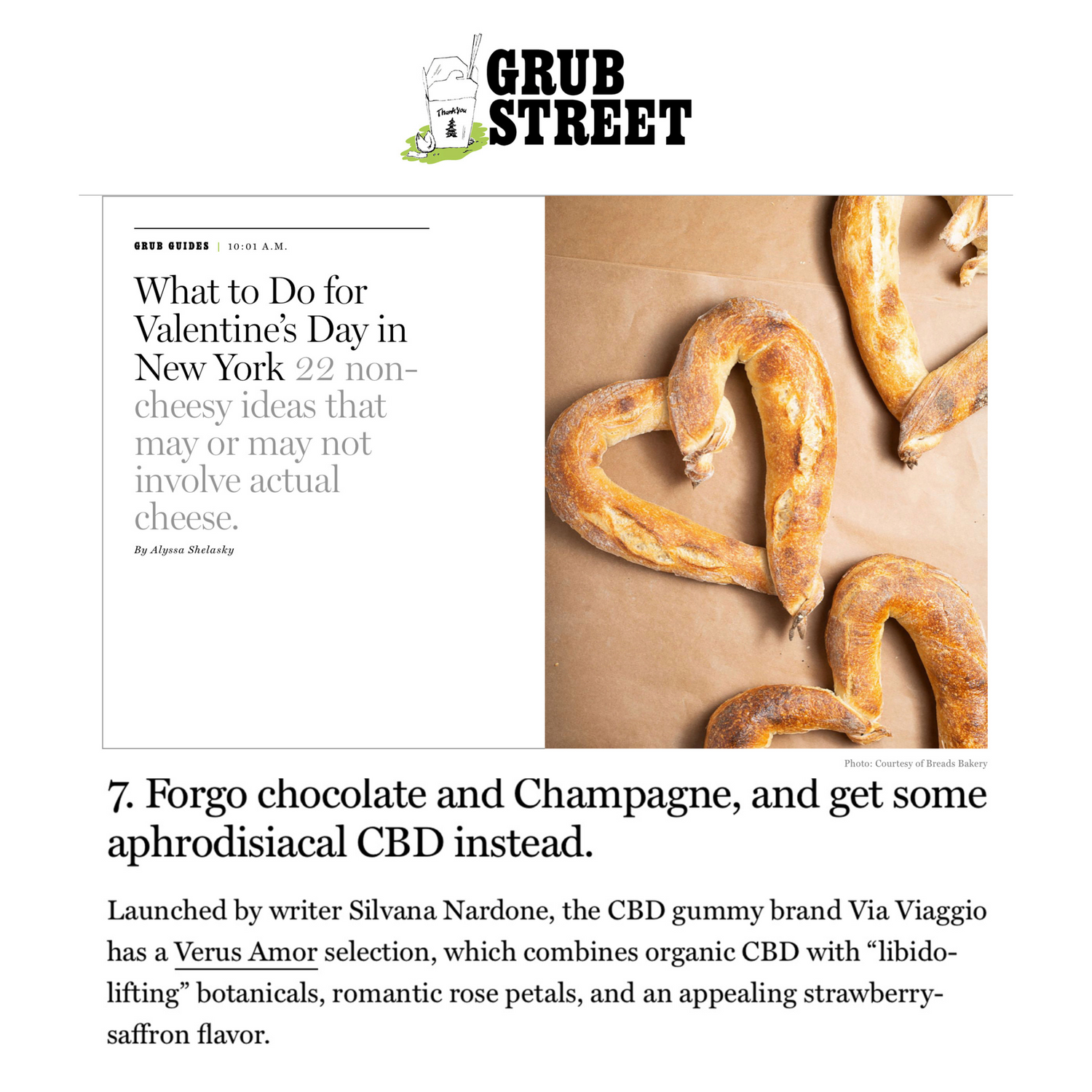 What to Do for Valentine's Day in New York
Forgo chocolate and Champagne, and get some aphrodisiacal CBD instead.
Launched by writer Silvana Nardone, the CBD gummy brand Via Viaggio has a Verus Amor selection, which combines organic CBD with "libido-lifting" botanicals, romantic rose petals, and an appealing strawberry-saffron flavor.

—Alyssa Shelasky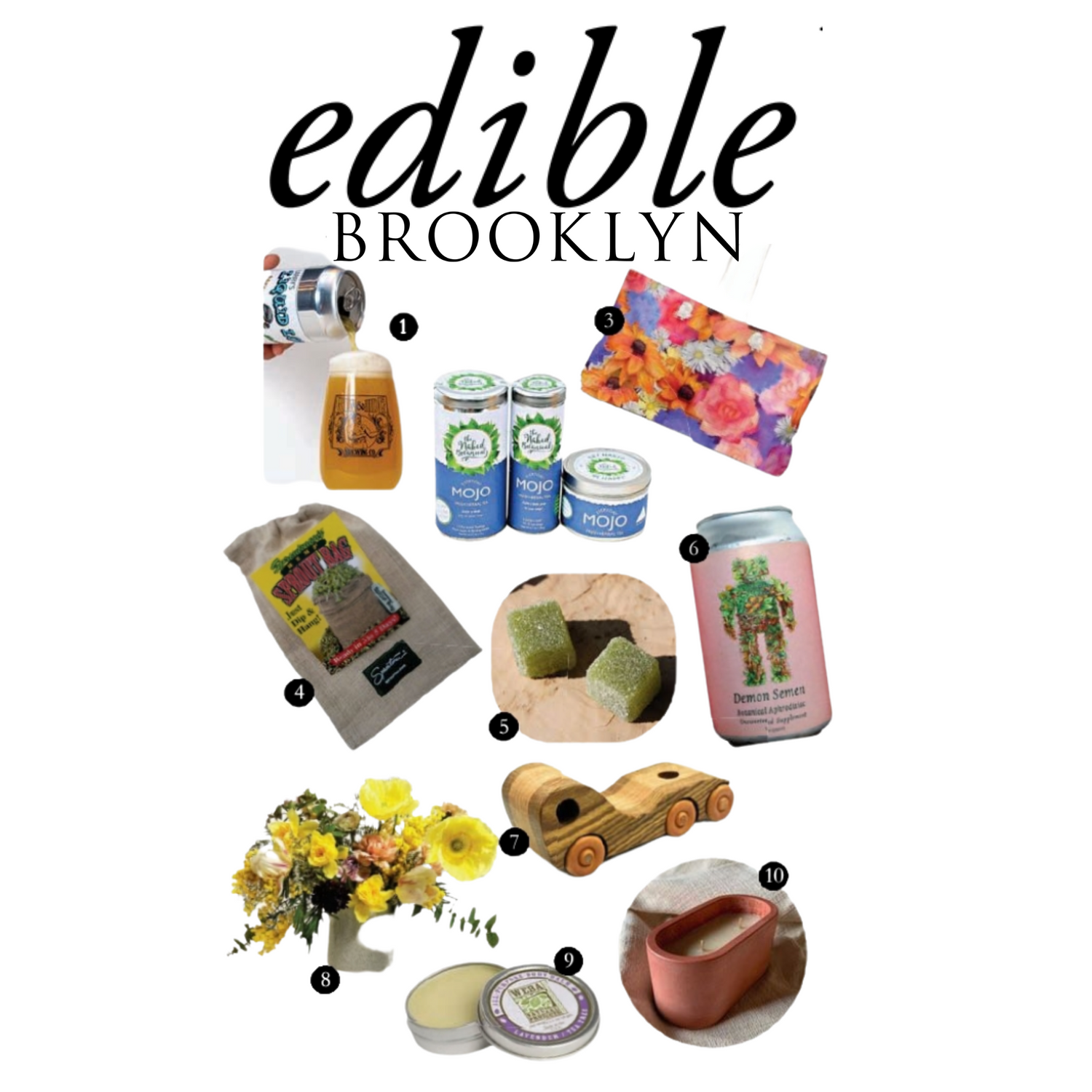 It's a Brand New Day
KEEP COOL
These 50mg "farm-to-edible" CBD gummies come in herbaceous adult flavors and include adaptogens to promote happy homeostasis. Look for formulas that help you sleep, give you energy, or boost your immunity. Made in Brooklyn with Hudson Valley-sourced CBD.
Collapsible content
What does Via Viaggio mean?

Literally, Via Viaggio means Trip Street in Italian. We are wanderers making every wild, wonderful adventure our own. To us, everywhere is a chance to take a trip—our body, home, community and beyond. Thanks for stopping by and buon viaggio!
How is Via Viaggio different from any other CBD edibles company?

We're defined by function—and flavor. Plus, we make our gems by hand in micro batches. We measure, stir, pour, coat and cure the gems to yield the ultimate taste, texture, plant bioavailability and precise dosage. We live and breathe the food and wellness industry. For us, every day starts and ends with good food and feeling great. We've curated exquisitely sourced, local ingredients whenever possible, including our upstate New York-harvested organic CBD, Brooklyn-blended adaptogens and Greenwich Village-based flavor extracts.
What is full-spectrum CBD?

Cannabidiol (CBD) is a safe, non-addictive, non-psychoactive compound found in the resinous flowers and leaves of hemp plants, which have medicinal benefits dating back thousands of years. Our organic, full-spectrum CBD contains cannabinoids, terpenes and essential fatty acids—all of which work together to magnify the therapeutic benefits of each individual cannabinoid, commonly referred to as the Entourage Effect. It also contains .29% total THC, which meets the federal legal requirement of containing less than .3% THC.
Do your products contain THC?

Yes, our organic full-spectrum (whole plant) CBD products contain the legal limit of less than 0.3% THC.
Where do you source your CBD?

We use organic, full-spectrum CBD from New York Hemp Oil (NYHO), which is free of any solvents, waxes, contaminants and additives. A pioneer in regenerative farming, NYHO hand-harvests CBD to preserve the integrity of each medicinal compound. It's also 3rd-party lab-tested at multiple stages to comply with state and federal guidelines, from cultivation to processing to manufacturing to sale.
Why a standard high dosage of 50mg CBD per edible?

In our experience, 50mg CBD is the sweet spot. For beginners, we recommend starting with half an edible (25mg) to see how you feel. If you don't feel anything, graduate to a whole edible (50mg).
What are adaptogens?

Adaptogens are botanicals that "adapt" to your body's needs—tranquility, sensuality, energy and immunity. CBD naturally interacts with our endocannabinoid system to regulate our body's balance and vitality. When combined with CBD, the benefits of all plants are enhanced.
Where do you source your adaptogens?

Our adaptogens come from a Brooklyn-based apothecary that uses organic, wildcrafted and ethically-grown botanicals to make healing remedies.
Why include Via Viaggio edibles in my daily routine?

For the best results, take CBD daily. CBD is lipophilic, meaning it's fat soluble and compounds in your body over time, increasing health benefits. For centuries, adaptogens have been used to protect the mind and body from physical, environmental and emotional stress.
How do I know if your edibles are working?

If you're not thinking about how you need to feel calm, for instance, it's because you're already experiencing that sensation.
Do your edibles contain allergens?

Our edibles are free of common allergens, including gluten, dairy, casein, tree nuts, peanuts, soy, egg, sesame, sulfites, fish and shellfish.
Why do you use grass-fed beef gelatin?

We made a conscious decision to use grass-fed beef gelatin sourced from pasture-raised, grass-fed cattle in the USA that is non-GMO and free of BSM and RSE. Gelatin is rich in protein and has a unique amino acid profile, resulting in health benefits like improved digestion, increased brain function and collagen levels as well as reduced signs of aging and joint and bone pain.
Is your food coloring safe?

Yes, our non-GMO food coloring is 100% plant-based derived from fruits and vegetables.
Where do you source your flavors?

We source our flavors from around the world. Extracted at peak season, they're 10x stronger in flavor than the average supermarket extracts, yielding a true flavor profile. They're also non-GMO and organic as listed in the ingredients.
Are your edibles organic?

Our CBD is organic and many of our adaptogens are organic or wildcrafted. Our edibles are non-GMO and we use organic ingredients whenever possible and highlight this in our ingredient lists.
Is your packaging eco-friendly?

Yes, our 100% recyclable, plant-based cases are made from a certified USDA bio-based resin. They are environmentally conscious, childproof and food-safe. We love the cases for their sleek look, convenience and reusability. Our labels are made with bio-degradable hemp to help minimize our impact on the planet. 
What's your refund and return policy?

Since our edible are handmade, Via Viaggio does not accept any refunds, returns or exchanges on any products. Via Viaggio reserves the right to waive this refund and return policy in its sole discretion. Please see our Refund Policy for more information.
I have a question that's not listed. How can I reach you?

For general questions, product information or press inquiries, please email Silvana Nardone at silvana@viaviaggio.com. For retail and wholesale inquiries, please email Doug Schneider at doug@viaviaggio.com.